Recognize: Snapshots of Los Angeles Bike Riders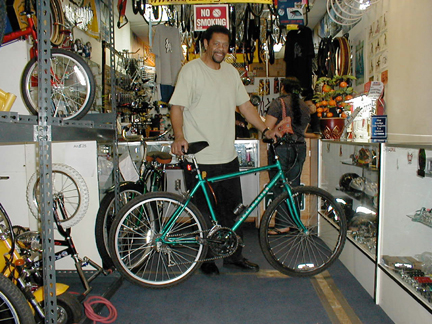 Randy
Roadmaster Chromium Edition

"Never had my bike
stolen and never stole one neither"
We found the
personable Randy having a gear lever repaired at El Maestro after a
careless friend dropped his bike. He was given his green Roadmaster
from a friend after asking around if anyone had a bike. Since he
works near his downtown home, he uses his bike for almost everything
else. He likes riding for "cardiovascular reasons" and
occasionally rides out as far as Imperial Beach. Randy likes his
Mountain bike because it's lighter than his previous one and it take
potholes and bumps pretty good. The biggest obstacle he faces comes
from the cars and buses that "disrespect" him and make
right-turns in front of him. The broken glass in downtown also makes
for lots of flats. His closing remarks were to state that "El
Majesto is the best bike shop in Los Angeles!"
---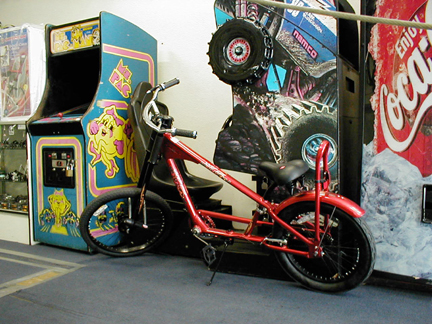 El Maestro Bike Shops / Jorge Sosa

Randy sez "El Maestro
is the best bike shop in Los Angeles"
The father and son
team that runs El Maestro were quite excited to hear about Bike
Summer, they wanted to know "how we can get discounts for our
customers"? Their bike shops cater to the many workers,
jornaleros, messengers, and security gaurds that work in the downtown
area. They tend to many basic repairs and sometimes have to tell the
customer that the bike isn't worth the repairs, half of the time
customers can't afford the cost. They say most of their
customers enjoy the freedom that biking gives them, prefering the
ride over the wait of the bus. Many of their customers can't
get drivers licenses so they opt for the bicycle. The store is called
El Maestro #2 as the first one near the Staples center was pushed out
during the recent redevelopment. The son was too shy to take a
picture but Randy joked "c'mon man, you're very photogenic".
---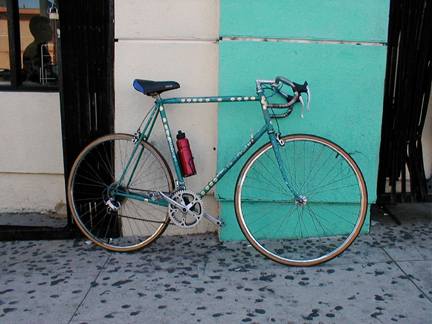 Jorge

Blue Bianchi
"Si la gente usaria
sus bicicletas mas no estariamos en guerra con Iraq"
Jorge
has been riding bicycles for a long time. After his previous
bike was stolen 4 months ago, he bought his Bianchi from La Segunda
for $5, though it needed some minor repairs. Living in
Pico-Union and not having a Drivers license, his bike is his main
mode of transport, but he doesn't use it to get to his Jornalero job
in Hollywood. When he lived in Mexico his primary forms of
transportation were a bicycle and a burro, but he adds that riding a
burro in the U.S. wouldn't be practical, "too much shit".
He likes riding because it helps get rid of "contaminacion"
and thinks that "people should use bikes more in all the world."
His biggest obstacle are the cars that don't pay attention to him.
Concerned that the need for oil was driving the war in Iraq, he
suggested that biking was a way to combat "selfish Capitalism".
He declined to be photographed, stating in English, "I don't
want to be famous."
---
Fernando
Blue Bianchi

"Montando la bicicleta al trabajo
te da mas energia, el Metro to pone a dormir"
Even though
initially hesitant to being interviewed, Fernando explained that he
purchased his Bianchi at La Segunda for $40. Originally from Pachuca,
Mexico he now lives at Venice & Vernon and makes the 1 1/2 hour
trip to his job in Long Beach. Though his bike is his primary means
of transport, he prefers it over the Metro because instead of
arriving sleepy and lethargic to his job, he now shows up with energy
and ready to work. His major obstacle to biking are children and cars
turning left, he even showed us a bad scar on his arm that was
sustained from a bike/car encounter a few years ago in downtown. He
noted that the car that hit him sped off and left him to pay his own
medical bills and for a new bike.
---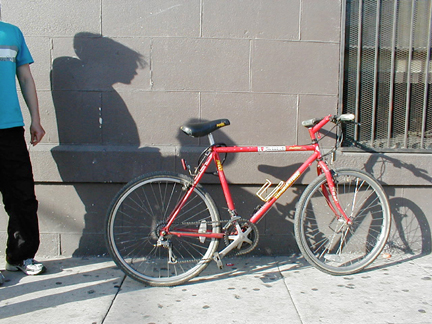 Choi
Bridgestone Trailblazer

"In Korea more people
ride bikes. In America everyone believes it's scary but it's
not."
Headed to work in a restaurant Downtown from his
home in Pico-Union, Choi's bike already came emblazoned with an "I
Love Mullets" sticker when he bought it for $45 at a Thrift
Store. He says the best feature of his bike are "the tires".
Asked what he didn't like about riding his bike, like many others, he
couldn't come up with an answer. He finally said he didn't like
"riding at night, it's too scary" because of the lack of
lighting which makes it hard for him to see where he's going.
Declining to be photographed, he did make sure to remove an unsightly
piece of wood that was holding together some brake cables.
---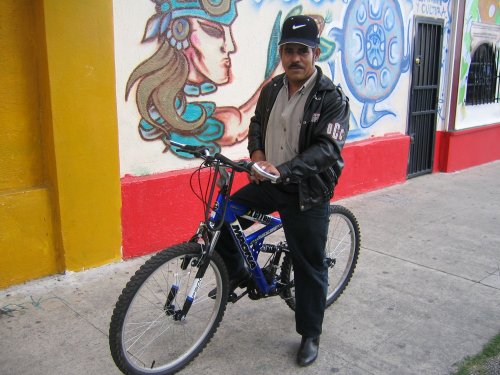 Miguel Angel
Blue Magna 21 Speed

"No me gustan los
fines de semana. Ahi muchos conductores borrachos"
Reading
the sign in front of Flor y Canto that asked riders to stop by for an
interview, Miguel was more interested in information regarding the
rumor about bike permits. He'd heard that all bike riders were going
to be required to have permits just to ride their bikes, we told him
we didn't think that was true. He was worried because in Honduras the
police did confiscate bicycles without proper permits, and since his
$300 Magna gets him from his home in Northeast LA to his job in
Glendale, he needs it to make the 1 1/2 hour ride. His favorite
aspect of riding is that it keeps him in shape and helps to "rebajar
peso". The biggest obstacle are the drunk drivers on the
weekends.
---

"Luis Guerra"

Black Bike with Recuerdos
"Facil
y Economico"
Wary of being interviewed, "Luis"
made up a pseudonym. Originally from Cuba but now living in Northeast
LA, his bike was very old but still decorated with a small leather
cross on the handlebars, and a spare inner tube wrapped around the
seatpost. He no longer has a car as he "lost it" so his
bike is his primary means of transportation, it's "facil y
economico". The biggest difficulty about riding? "No
problems." Declined to be photographed.
---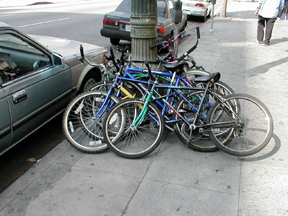 The Bicycle Thief
"I can sell anything, I can sell
stink off shit and a hump off a camel"
Coming up to a
mass pile of bikes, we talked to a bike rider that also doubled as
this downtown hotels bike watchman, he claims to charge $10 a night
to protect them from theft. Seeing as he also doubles as the main
bike thief in the area, he gave very detailed descriptions on how to
break various locks, which he classifies as "stupid vs good"
locks. He gets requests for bikes, usually a Schwinn or Mongoose, and
then he tries to track one down. He says he can sell anything but
that lately the police have been cracking down on bike sales, asking
for sales receipts and paperwork. Though he takes bikes he still
finds it wrong that up to 20 bikes will be chained up to one street
light, he thinks the city should install proper bike racks on the
street. He's had his own bike stolen once, when he left it in a car
that got towed. His worst experience was ending up in jail for an
arrest warrant when the police caught him riding against the flow of
traffic. "The city needs to put some bike racks down here!"
---


Juan Manuel

Burgundy Nishiki

"Buen
ejercicio"
Short on words but friendly, Juan started
bicycling 4 months ago as he previously used to ride the bus. His
bike is his main means of transportation and he rides it the half
hour it takes to get to work. He hasn't encountered any problems
riding his bike and likes it because of the good exercise.
---


Matias Gonzalez

Boulder Giant

"Puedes horar dinero
usando la bicicleta"
It takes Matias 45 minutes to get to
his job downtown from his home at San Pedro and 79th, though he makes
that trip only during the good weather season; when the rains start
he takes the bus. Originally from Puebla, Mexico he enjoys biking in
Los Angeles because it's good exercise and his bike works well.
Though he has no major obstacles, he is fearful of being jumped by
"mala gente" at stop signs thus he rides on the sidewalk.
He hasn't been jumped but he's "heard things". His closing
remark was that riding bikes is a good way to save money and that
he's had bad luck riding over glass, too many flats.
'Recognize' is a collaborative work contributed by the following individuals:
Edith Abeyta :: http://edithabeyta.blogspot.com/
Anita Martinez :: http://www.contratiempo.org/
EL CHAVO! :: http://www.chanfles.com/